Getting Started With The Ascent Mortgage App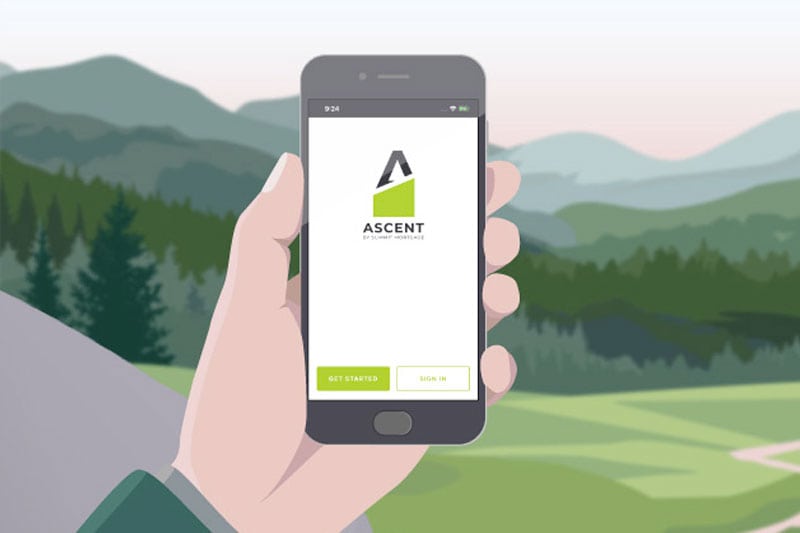 You've heard of countless home mortgage apps for mobile devices. Just about every lender has one, and they all work pretty much the same way — except one — the Ascent App from Summit Mortgage Corporation.
The Ascent App is unique, offering functionality, and security backed by the power of a personal loan officer. That's right, instead of starting with a download, you begin with a person—and that makes all the difference.
Because the Ascent App is unique, Summit Mortgage is using this post to let you know how it works so you'll get the most out of it.
Guiding You Home
Complete our Quick Start Form and we'll connect you with a loan officer that matches your specific needs. They'll provide a free consultation and guide you through every step of the loan application process.
Choose your loan officer.
A home mortgage is no small undertaking. In fact, outside of raising a child, buying a home is the largest and longest commitment most people will make in their life. We don't bring this up to scare you, we do so to prepare you.
A mortgage isn't something you click-to-get like late-night food delivery. A new mortgage or loan refinance requires thought, informed choices, and expert guidance. That's why the first step to using the Ascent App actually begins on the Summit Mortgage website. That's where you'll pick your personal loan officer. Yes, you'll need a personal loan officer before you can get into the app's functionality. Just review the roster of loan officers, learn a bit about them, and connect. Or you can get started now by completing our Quick Start Form. We'll connect you with a loan officer that matches your specific needs. They'll provide a free consultation and guide you through every step of the loan application process. You can even call a few to discuss your situation before selecting. This way, you can be sure your personalities mix well. Once you've chosen your personal loan officer, they will send you a link to download the Ascent App. This is the moment when our human touch meets digital touch.
Download the Ascent App.
To download the Ascent App, use the link that was sent to you by your personal loan officer. It will automatically lead you to the appropriate version of the Ascent App for your iOS or Android mobile device. The Ascent App isn't a large file size, so it should download quickly and take up little space on your device. After you download and open the Ascent App, you'll see your personal loan officer's photograph, name, and title right away. This is your confirmation that things are all set to go.
Apply for a new loan or apply to refinance a loan.
If you are ready to jump in and begin a new home loan or home loan refinance application, touch the link that says "Apply Now" in the top menu. When you do, you will be prompted with three choices, "Purchase," "Cash-Out Refinance," or "No Cash-Out Refinance." Just choose the option you want and proceed. From this point, it's a straightforward step by step process of answering questions and providing information. Here's the great part, as you complete each question of the application, the answer is saved. This means you can fill in the application at your own pace and around your schedule. Each time you come back to the Ascent App, the link that initially read "Apply Now" will instead read "Almost Done." Just touch it to pick right back up where you left off in the application process.
Bank account security built-in
Among the handy features of the Ascent App is the ability to securely link your bank account to the application. This will be one of the steps in the application process. Doing this saves loads of time and hassle when it comes to confirming bank account balances. Instead of trying to find and deliver statements over a requested period of time, the Ascent App will pull the information as needed. AND FEAR NOT. This information is private, secure, and safe. Your loan officer will only be able to see the required information for the application, nothing more. What about other financial documents that you'll need to supply? Don't worry, the Ascent App has that covered too and we'll discuss how to use the secure scanner feature in just a moment.
Almost finished
There is no "click, apply, and finish everything" mortgage app. Some lender apps suggest, imply, or try to say theirs can, but it can't. The Ascent App is upfront about the process. When you complete the application within the app, you'll have completed the lion's share of the work. In fact, you'll be about 80% through the process. But after submittal, there will be a follow up with your loan officer to confirm key details, explore various program options, and complete the process. This follow up step is true with all lender apps, BUT there is one major difference. When you use the Ascent App, you know, trust, and have already connected with the loan officer that will be following up with you. It's the same person you picked from the Summit Mortgage website. So the person you worked with at the beginning of the journey, is the same person that is with you at the finish. No hand-offs and no headaches with transferring departments. With Summit Mortgage and the Ascent App, you have a single point of contact to guide you home.
A calculator like no other
When you first download and open the Ascent App, you might not be ready to jump right in and apply for a home loan or loan refinance. That's okay, the Ascent App has powerful tools built into getting your journey started. Among the most used and valuable is the "Calculator" in the bottom menu of the Ascent App.
You can use the calculator to determine monthly payments and costs associated with buying a new home, refinance loan calculations to determine potential alterations to your existing mortgage, determine what you can afford with different loan types, and save all of your various calculations for later comparisons. It's a powerful tool. It's also one of the best calculators for estimating the impact of private mortgage insurance for those borrowers (which is most) who don't have a 20% down payment.
Scan documents safely
With the Ascent App, your data security is always top of mind. When applying for a new home loan or refinancing a loan, you'll need to share sensitive financial documents. The Ascent App takes no shortcuts in assuring your information is protected. Especially when it comes to document handling.
In the bottom menu of the Ascent App, you will see a "Scanner" option. You will use this to upload your documents to the Ascent App. Despite its rather common name, this is not a typical scanner tool that you'd find in mobile apps stores. The Ascent App scanner is a special, highly secure tool that uses your camera to capture an image of the document then applies encryption to protect for safe submission. When you open the scanner tool, it prompts you through what you need to do to create the best scans possible so they are acceptable for the loan application. The process is easy. The tool even saves your scans so you can capture all of your documents at one time, and then sends them out as needed. As a general rule, you should never send unprotected attachments of sensitive data in an email. Using the scanner tool, you can be sure proper precautions are in place to protect your data.
Learn before you buy or refinance
Your personal loan officer is always a simple touch of the contact button away. They are happy to answer your questions (yes, there will be lots of questions) and address any concerns. But sometimes, customers might not know what to ask. That's where the "Learn" option in the bottom menu comes into play. Touch it and you'll find a selection of articles, news items, and glossary terms. Reviewing these will go a long way in creating confidence and a better understanding of the home loan and loan refinance process. Even if you've taken out a home loan or refinance loan before, reviewing this material can be invaluable. Still curious? Never hesitate to connect with your loan officer. They're here to help you along the journey.
The mortgage app that does more
As stated, the Ascent App isn't like other mortgage apps, which is exactly why it's the right app for you. It's here to help you find the best home mortgage. With it, you can compare, apply, track, and control your home mortgage. Now, let's go find your loan officer and get your journey started.