What First-Time Homebuyers Need to Know About Fixer-Uppers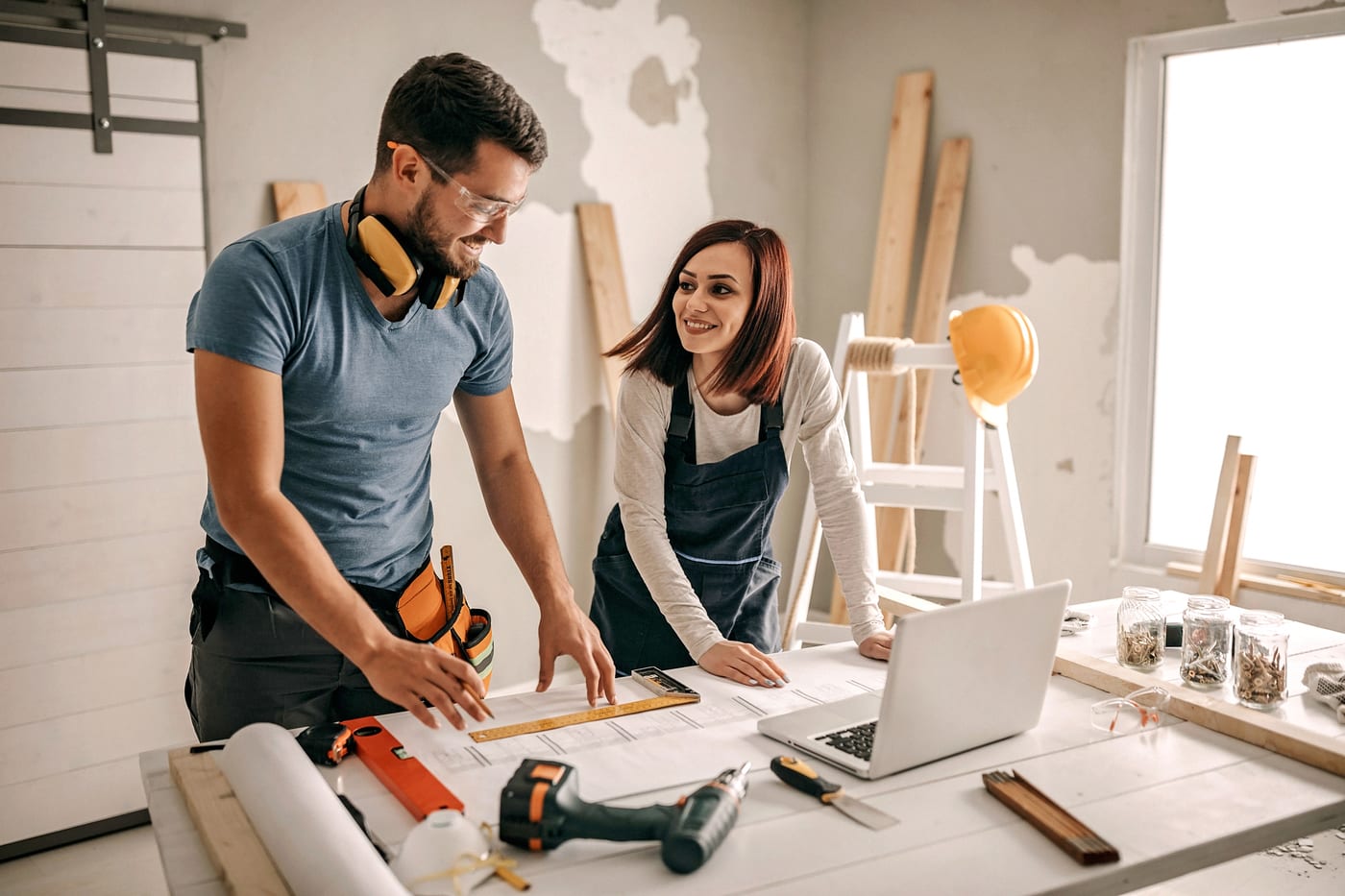 Is It a Good Idea to Buy a Fixer-Upper?
While first-time homebuyer loans, grants and other programs can save you a lot, the first place to look for first-time homebuying savings is at a home's selling price. Buying a home is expensive, therefore anything a first-time homebuyer can do to reduce the cost, like purchasing a lower-cost fixer-upper, is worth considering.
Obviously, an updated home will always be more expensive than a fixer-upper. Does that mean fixer-uppers are always a first-time homebuyer's best choice? In many cases, yes, but they are not for everyone.
Arriving at your answer will depend on a number of variables regarding cost.
How much are similar homes selling for in the area?
How much would you save purchasing with a fixer-upper?
How much will the renovations cost?
How much can you DIY?
What are the loan implications of buying a fixer-upper?
Find answers to questions like these and you'll likely be on your way to determining if fixer-uppers are right for you.
Guiding You Home
Complete our Quick Start Form and we'll connect you with a loan officer that matches your specific needs. They'll provide a free consultation and guide you through every step of the loan application process.
Is Fixing up a House Worth It?
When asking if a fixer-upper is a good deal or not, begin by looking at comparable homes in the same neighborhood. Find homes that match the amenities, square footage, and other specifications you will achieve AFTER renovations to your fixer-upper is complete. Keep in mind that landscaping will likely improve the curb appeal price, but it plays no role in the appraisal. So even if you spend $100,000 on a hand-stacked boulder wall it won't add a penny's worth of value in the eyes of an appraiser.
Next, determine how much you would need to invest in the fixer-upper to make the necessary updates. When doing this, consider what skills you have, what projects you will need to hire out and what are the prices for the materials you will be using. For example, wall tiles can be as low as 50 cents per tile to $10.00 per tile and beyond. So price the exact materials you will be using. That means you shouldn't use online estimates. Contact local stores and skilled tradespeople to get real pricing numbers. In fact, if you will be hiring professionals, have them come to the house before you buy so they can give you a detailed estimate.
Now, compare the two numbers and do a little math.
If a comparable updated home in the neighborhood costs $300,000, and you'll need to make $50,000 worth of renovations to a fixer-upper, you won't want to offer any more than $250,000 for the home. Ideally, you'd want to pay even less to account for all of the effort involved and the time it will take.
Buying a Fixer-Upper to Live In
Renovating your first home sounds like an exciting opportunity, and it can be. But fair warning, it can also be a disaster if you jump in unprepared. That's not even considering the mess, noise and inconvenience of living in a construction zone.
Be honest with yourself about which projects need to be done, the timelines, and your capabilities. There's a big difference between seeing something on HGTV or YouTube and doing it yourself. No two projects are alike and you'll need to be able to account for your particular situation.
You won't always need to hire professionals. In fact, it's a great idea to develop your own handyperson skills. That said, don't push beyond your comfort level. When in doubt, go with a pro.
On top of having the right knowledge, you'll also need the proper tools. Don't plan on laying an oak hardwood floor using a traditional claw hammer. Be sure you account for tool purchases or rental fees as part of your estimating process.
There are also permits that need to be pulled for many projects. Trying to avoid permit fees might save you a little cash upfront, but it can also backfire when you attempt to sell the house, or worse, cause a fire while you are living in the house. You should also realize that some work may make your home uninhabitable for a period of time.
What Kind of Loan Do I Need for a Fixer-Upper?
Finding the right home loan program is always an important step for a first-time homebuyer. When you identify the right program, you can save thousands of dollars. And guess what, there are loan programs designed especially for fixer-uppers.
Loans tied to renovations and updates come with more strings attached. Before signing any loan papers, work with a personal loan officer to understand all the requirements. Just as you did when comparing the cost of the home with the cost of renovations, you'll want to compare the financial ramifications of various loan programs.
Should you need it, a renovation loan can often be used to cover mortgage payments if you need to live elsewhere during the work. Plus, there are often extra funds available to account for cost overruns which are typical during a renovation project.
Here are common renovation loans for first-time homebuyers.
FHA 203(k): Developed by the Federal Housing Administration, this program can be used for renovation projects and offers lower income and credit score requirements than conventional mortgages.
VA Renovation Loan: Offered by the Department of Veteran's Affairs, this program is geared toward both the purchase and renovation of a home. Requirements stipulate the type of projects that are eligible and that a VA-approved contractor is used.
HomeStyle: A product guaranteed by Fannie Mae, this type of mortgage requires a higher credit score than an FHA 203(k) loan, but allows for almost any type of improvement including pools and landscaping.
Borrowing Tips on Buying a Fixer-Upper
Check, double-check and re-check that you will have enough money to make the down payment. There will be a time, date, and place where you are expected to deliver the down payment. If you can't deliver, the entire home deal can fall apart. This is the case in any purchase agreement, but it's even more important when factoring in your renovation budget.
If your strategy is to use either a home equity loan or a home improvement loan, make sure you get pre-approvals for both before making an offer. Assumptions can lead to disappointment. Make sure the lender agrees with your plan.
While it's not always possible in competitive situations, try to make your offer contingent on being approved for your home improvement loan and home mortgage loan. This gives you maximum protection if one aspect of the deal doesn't work out.
Pro Tip: If the amount of renovation money you need is less than $35,000, you might want to consider a streamlined 203 (k) program loan. It's simpler and easier to obtain than the standard 203 (k) program. The streamlined 203 (k) loan will provide up to $35,000 toward renovations on top of the existing mortgage.
Create a Fixer-Upper Checklist for Finance Requirements
After you qualify for a renovation loan program, you'll need to meet its requirements. It's not unusual for the lender to put extra consultations, inspections and appraisals in place to protect their position. This is where a checklist can come in handy.
Of course, these conditions will vary by lender and loan type, but a qualified personal loan officer will be able to tell you what to expect and help you create your checklist. For example, they would know that an FHA 203(k) loan requires a Department of Housing and Urban Development (HUD) consultant to approve your plans, manage contractor payments and inspect the property after each phase of work is complete.
While these types of stipulations are meant to benefit the lender, ultimately, they benefit you, too, by ensuring the work is done correctly and as planned.
What Should I Look for When Buying a Fixer-Upper?
It's common practice to make your offer on a home contingent upon an inspection report. This is not an opportunity for a family member, friend or coworker to give the home a once over. A proper home inspection is done by a professional who knows exactly what to look for, can identify the telltale signs of problems, and will provide a detailed document of the home's condition. When purchasing a fixer-upper, this step is an absolute must.
The home inspection should confirm all the work you think needs to be done. However, it is likely to reveal other work that should, and may need to be, completed. This new information could impact if you want to purchase the home and how much you want to pay for the home.
Often, you will provide the home inspection findings to the seller and ask them to make the repairs, cut you a check for the repairs or accept a lower price for the home. If they refuse to do any of these, it's likely best to walk away and seek out a different opportunity.
Is It Better to Buy a Cheaper House and Renovate?
Everything in a home can be fixed. But should you? Some issues are major investments that you might want to view as red flags. These situations are why it's not always cheaper to buy a house and renovate it.
What kind of issues can dramatically change the value equation? For starters, look at possible structural work.
Structural work is complicated and costly. A structural engineer is often needed to make a proper structural assessment. That alone can cost upwards of $700. Of course, that is often money well spent. Just because a crack in a foundation or a load-carrying beam has been there "forever" doesn't mean it's not causing issues or on the verge of breaking. We are not suggesting a seller would mislead you on a home's condition, but often, they just don't know how serious a crack might be. If you do discover a structural issue, you'll need to discuss your options with the engineer and determine if it's worth fixing. Sometimes, these are minimal fixes, but in many cases, the solution requires a lot of labor and expense.
Another red flag is mold. In some ways, the danger of mold has been overplayed. When properly identified, abated and the source corrected, mold can become a non-issue. But, you need to work with experienced professionals that can assure you all mold has been identified, removed and the source corrected so it will not return. Simply replacing a piece of drywall is not enough to do the job right. So be aware.
Is it Worth Buying a Fixer-Upper?
Few things are as gratifying as finding a fixer-upper and shaping it into a home you are proud to own. More than a wise financial decision, a renovated home becomes a personal expression of your taste, family and lifestyle. That's something that's impossible to put a price on. What's also gratifying about a fixer-upper is knowing you did it the right way and didn't waste money making the wrong moves when selecting or financing it. Often, that means the first call you made was to a local, personal loan officer. Want to get started now? Complete our Quick Start Form and we'll connect you with a loan officer that matches your specific needs. They'll provide a free consultation and guide you through every step of the loan application process. Working with a personal loan officer can arm you with the answers, opportunities and loan programs you'll need to succeed.