An Introduction to VA Home Loans

Thank You For Serving Our Country
Get up to 100% home financing as part of your military service benefits.
VA Home Loans
First and foremost, VA home loans are a benefit that America's veterans and active duty men & women have earned as part of their military service. This benefit provides access to home financing with no down payment to help members of our armed forces realize the American dream.
Guiding You Home
Complete our Quick Start Form and we'll connect you with a loan officer that matches your specific needs. They'll provide a free consultation and guide you through every step of the loan application process.
Benefits of VA Home Loans
Up to 100% Financing
VA home loans have one of the few options available today that allow 100% financing.
No Mortgage Insurance
Enjoy the advantages of little or no money down, without having to pay mortgage insurance.
Flexible Qualifying Guidelines
Even buyers with lower credit scores and little to no money for down payment may still qualify for VA home loans.
VA Home Loan Details
A variety of fixed & adjustable rate options
No private mortgage insurance requirement
Purchase & Refinance options
Minimum 620 FICO
Flexible qualifying guidelines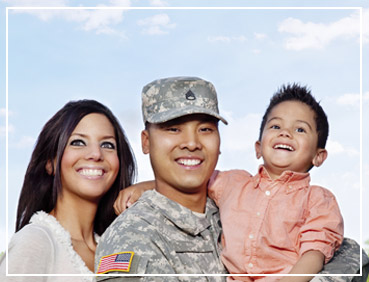 VA Home Loans Eligibility
If any one of the following are (is) true, you may be eligible for a VA home loan.
Served 181 days during peacetime (active duty)
Served 90 days during war time (active duty)
Served 6 years in the Reserves or National Guard
You are the spouse of a service member who was killed in the line of duty.